BTi's Warehouse Becomes Australian Certified Organic (ACO)
We are pleased to announce to you BTi's recent accreditation as an Australian Certified Organic (ACO) Warehouse! This comes in addition to our pre-existing Approved Arrangement for Export of Non-Refrigerated dairy products.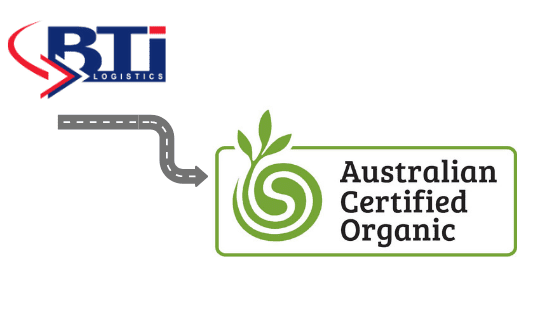 The certification ensures 'compliance with national & international production, storage and distribution standards, and allows trace back of all products to their origin' (www.aco.net.au).
In practice, this means that we can now handle and store certified organic products. In fact, we are one of the select few Logistics providers in Victoria that have an ACO accreditation. For instance, we are now able to partner with importers/exporters of organic fruits and vegetables, organic dairy products, organic cosmetics, organic clothing, organic baby food, organic pharmaceutical products, organic personal care products and many more.
The ACO application process for BTi consisted of;
A submission of a detailed and in-depth Management Plan
Identification of the movement of organic product through its premises.
Detailed analysis of its control of products and services in relation to Organic and special handling requirements
Showing a system of continuous improvements ensuring that the warehouse is at a high standard of quality.
Moreover, the ACO audits the training of the BTi staff, our procedures and our premises on an annual basis. BTi also audits its systems twice a year.
The certification process is detailed. For instance, it involves the setting up a risk analysis on systems and procedures, in line with International Standards Organisation (ISO) 2015. This is becoming the global standard to refine service stability and quality and to reduce risk within the supply chain. Currently and in future, any procedures that national governments sign off on will require this type of system to be in place.
Additionally, the ACO will provide BTi with industry support through invaluable market insights. Such insights include trade links, organic information, network opportunities and more.
Environmental Sustainability
BTi joined the movement for long-term environmental sustainability as we believe that each individual/entity is a part of something bigger. A good ecological balance can come through organic agriculture. Reducing the use of things like synthetic fertilizers, minimises pollution in soil, air and water supply. Organic foods also help keep animals healthy, as chemical exposure causes diminishing sea life and infertility in wildlife.
The 2023-2024 BMSB seasonal measures will apply to target high risk goods manufactured and shipped from target high risk countries

learn more

→

The 2021-22 BMSB seasonal measures will apply to target high risk goods manufactured and shipped from target high risk countries

learn more

→