Coronavirus - BTi Logistics Update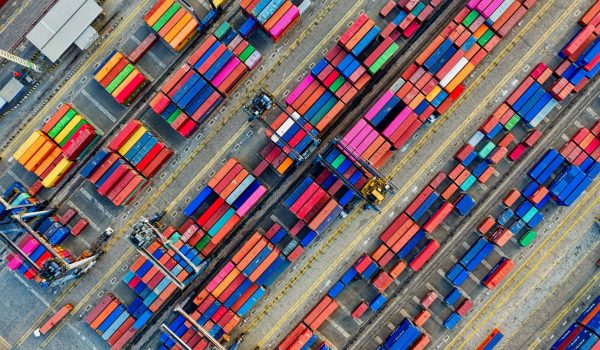 As coronavirus lockdown measures are starting to ease, fears of a second wave of infection are rising. The specific countries that have experienced a spike in infections include India, Russia, Germany, UK, Africa, U.S., South America, Southern Asia and Afghanistan. The north of China has experienced a spike in COVID-19 infections, all of which are reportedly imported.
According to the World Trade Organisation (WTO), global merchandise trade is expected to drop a significant 13-32% in 2020. While all regions will suffer double-digit declines in trade volumes, exports from North America and Asia are expected to be hit the most.
World merchandise trade volume, 2000‑2022
China
The ministry of transport in China reports that transport operations in the country have resumed by 98.4%, as of 23 May 2020. Manufacturing activity in China sustained a steady recovery in May with the rally in domestic demand gathering pace, as per China Daily. "Analysts expected the manufacturing sector to continue to pick up over the coming months but cautioned about the uncertainty over external demand and the pressure on employment".
USA
Following the recent protests in the United States, COVID-19 is on the rise again in several US states.
All US ports are currently operating.
US manufacturing recovered slightly in May. However, demand for goods remains low even after supply issues were relevantly resolved.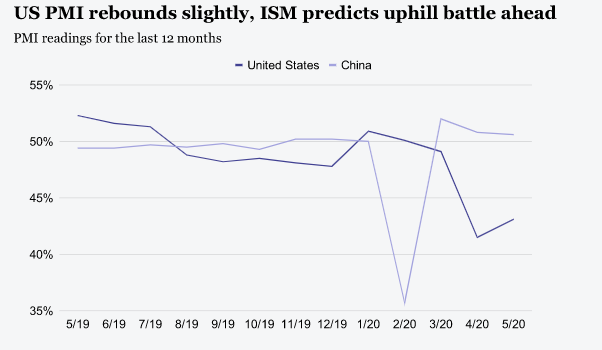 Australia
As Australia has successfully "flattened the curve", COVID-19 measures have started to ease, allowing more businesses to open their doors again and operate safely under COVID-19 health guidelines.
The Government has introduced a Temporary By-Law providing tariff relief on a range of Personal Protective Equipment (PPE) and medical items. The Australian Customs Notice states that The Temporary By-Law will cover Item 57 to Schedule 4 of the Customs Tariff Act 1995(Customs Tariff Act) provides a Free rate of customs duty for the period of 1 February 2020 to 31 July 2020 for hygiene or medical products imported to treat, diagnose or prevent the spread of the coronavirus that causes the disease COVID-19. Use of the Item and by-law will not affect other taxes and charges that may be payable on the imported goods. The goods must meet the requirements of the item to access the concessional rate of customs duty. Additionally, Australian importers may be eligible for a refund of customs duty for hygiene or medical goods that have already been imported and meet the requirements of Item 57. Further information on how to request a refund can be found here.
If you are importing Personal Protective Equipment (PPE), for professional medical purposes, please be aware you are required to have a TGA registration before selling the product. If the goods are of non-medical grade, then there is no TGA requirement. However, if your goods are of non-medical grade, it is important you ensure your goods are not falsely marked as medical grade. Please note that if your goods are marked incorrectly, the Australian Border Force (ABF) may seize the goods.
If you are manufacturing PPE that makes therapeutic claims or is intended for use in a clinical setting, your product will meet the definition of a medical device and will need to meet the regulatory requirements under:
Sea Freight
The COVID-19 pandemic caused blank sailings (cancelled vessel schedules), in the port of Melbourne, to double in the first quarter of 2020. Moreover, the port experienced an 11.3% decline in container volume, in April.
However, things are looking better for the month of June, with shipping lines advising capacity is improved this month. Do note, that there is some uncertainty as to how things will look in July.
Air Freight
The air cargo industry experienced its sharpest ever decline in air cargo volumes during April.  IATA reports that demand in cargo tonne km (CTK) terms decreased by 27.7% year on year in April, while capacity was down by 42%, in CTK terms.
As airlines are slowly resuming their passenger flights to certain destinations, TAC data shows that average air freight rates were down 11.8% in recent times. Consequently, air freight prices are starting to stabilise gradually. The re-opening of manufacturing around the world may challenge that rate stabilisation, as air freight demand will be high. Moreover, there is currently increased availability of air freight through charter flights. Generally, air freight is starting to operate on a more regular basis.
Some Useful Sources:
The 2023-2024 BMSB seasonal measures will apply to target high risk goods manufactured and shipped from target high risk countries

learn more

→

The 2021-22 BMSB seasonal measures will apply to target high risk goods manufactured and shipped from target high risk countries

learn more

→