In addition to our previous article regarding the effects of the coronavirus on global supply chains, we wish to inform you on the latest updates.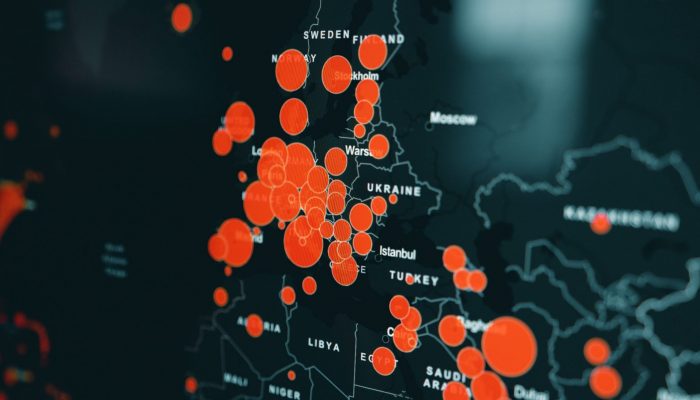 As the coronavirus continues to spread outside China, more nations are implementing lockdowns to protect their public and health care systems from collapsing. Spain, Italy, Denmark and France are the most recent countries to implement nation-wide lockdowns. This means the temporary closure of all non-essential businesses, apart from grocery stores, petrol stations and pharmacies. Therefore, please beware for disruptions in shipments departing, arriving or passing through these countries.
Ever increasing numbers of countries are shutting their borders and implementing travel restrictions. Some of those destinations include, the EU, USA, Australia, Austria, Cambodia, Canada, China, Colombia, Croatia, Czech Republic. Denmark, Egypt, Germany, Greece, Haiti, Hong Kong, Hungary, India, Indonesia, Italy, Japan, Jordan, Macau, Malaysia, Morocco, Norway, Peru, Russia, Saudi Arabia, South Korea, Spain, Singapore, Sri Lanka, Thailand, Turkey, Ukraine and Vietnam.
It comes as no surprise that the World Health Organisation (WHO) has declared the coronavirus outbreak a pandemic .
Coronavirus Update – Europe
Europe has now become the epicentre of the outbreak, recording more cases than China when it was at the peak of its outbreak. Italy is taking the hardest hit currently with 23,000 active cases, leaving approximately 60 million Italians in strict house quarantine. The luxury retail industry will experience disruptions, as the headquarters of Armani, Prada and Versace are based in Milan.
We recommend ensuring you have alternative supply chain arrangements in place, geographically diversified from your current arrangements. For instance, if your main supplier or any main point of contact within your supply chain is within Europe, we would recommend seeking alternatives outside Europe. This will help you avoid supply chain disruptions. According to Fortune, 75% of companies are seeing capacity disruptions in their supply chains, as a result of coronavirus restrictions.
Coronavirus Update – China
On the contrary, coronavirus cases in Asia have not only slowed down, but are also steadily decreasing. Consequently, three quarters of China's municipalities, regions and provinces are lowering their emergency level. Restrictions in the city of origin of the coronavirus – Wuhan, have been lifted, as infections in Hubei province are stabilising. People in Hubei are cautiously returning to work. This is big news for car suppliers, as Wuhan accounts for almost 10% of the total vehicles manufactured in China and a considerable amount of vehicle parts and electronics. However, the coronavirus effect on global financial markets, is unprecedent, making buyers less optimistic about the future. Committing large amounts of funds to a new vehicle, is heavily reliant on psychological factors, which is hard to predict during a pandemic.
Overall, freight forwarding activities in China have resumed, but manufacturing capacity is yet to reach 100%. According to Baidu Data, more than 80% of malls and supermarkets are open again in Chinese major cities. However, the real challenge now is not the production, but demand for goods…
Moreover, on 13/3, for the first time ever, South Korea reported that they had seen more recoveries than new cases.
Please note that we can now confirm the virus can only stay active on hard surfaces for a few hours.
Coronavirus Update- Australia
Australia's imports are down by 30-40% says Neil Chambers, the director of Container Transport Alliance Australia. Australia is experiencing a shortage of medical equipment, especially COVID-19 testing kits, as other nations limit their exports to withhold them for their own use. The Guardian reports "Major drug wholesalers warn of unprecedented demand saying it is 30% to 40% higher than forecast". Although there are temporary shortages on a local warehouse level, there are no significant stock shortages on a national level now. It is also understood that construction supply chains in Australia experienced some disruption, during the factory closures in China.
Life Goes on During COVID-19
As the coronavirus situation is evolving, more obstacles are being thrown into international trade due to more countries being affected. BTi is determined to continue moving your goods to their destination, even through the use of alternative routes where possible. Although certain disruptions are unavoidable, now especially, it is fundamental that you are using an experienced freight forwarder. BTi Logistics expertise expands over 30 years and a range of different industries including pharmaceuticals, food, textiles and more. During these dynamic times, we want to help you navigate your business.
Please note that for the safety of everyone, increased hygiene measures are taking place in BTi's branches. Entry to our facilities is restricted to staff only, in conjunction with heightened hygiene rules. Instead, we offer alternative meetings online or via the phone. Our processes team has been working hard to put together a plan B. Our aim is to ensure BTi's critical operations can still run from home in case of a national lockdown.
Please note that the above is currently accurate, but the coronavirus situation is evolving rapidly. We will continue to monitor the situation closely and will publish further coronavirus updates through our newsletter and news page.
We hope everyone stays safe. Here, you can find WHO's guidelines on how to protect yourselves and others from the coronavirus.
The 2023-2024 BMSB seasonal measures will apply to target high risk goods manufactured and shipped from target high risk countries

learn more

→

The 2021-22 BMSB seasonal measures will apply to target high risk goods manufactured and shipped from target high risk countries

learn more

→