BTi Logistics Industry Update – April 2021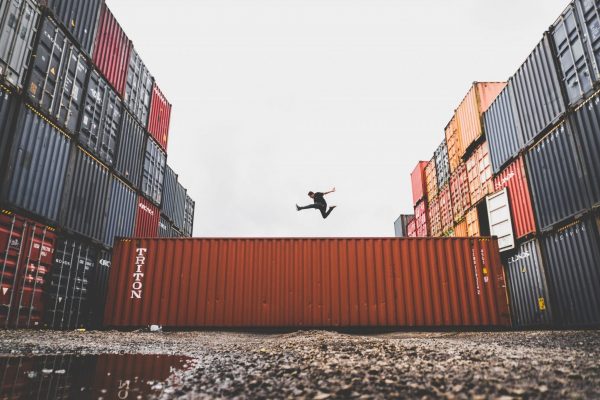 Suez Canal Blockage Ongoing Consequences on Global Supply Chains
If you thought the end of the Suez Canal blockage would come the moment the Evergreen vessel got released, read this. During the week that the Evergreen vessel was stuck there, a backlog of a total of 450 vessels with critical supplies was waiting outside the canal to go through. Essentially leaving several weeks of disruptions behind. To put this into perspective, 10 billion worth in commodities, industrial inputs and consumer products go through through the canal daily. No doubt this will add to the already congested ports around the world as we expect many vessels arriving simultaneously. As a result of the rescheduling of shipping services ex Europe, shipping lines may implement a "Peak Season Surcharge". Should we receive confirmation on this, we will ensure to notify you.
Ocean Freight
Import volumes surging in the Port of Los Angeles with March being a record-breaking month in TEU's. According to Supply Chain Dive, the Port of Los Angeles' imports rose 123% YoY in March to reach 490,115 TEUs. A rise of almost 65% compared to the same month in 2019. Similarly, the Port of Long Beach says it had its busiest month of all time in March, despite the month being "traditionally one of the slowest months on the shipping calendar". High Demand for Cargo ex Asia is expected to continue in Q2. However, schedule accuracy is affected by:
The Suez Canal blockage and the backlog caused by it
Lower port productivity due to COVID-19 restrictions around the Transpacific and European trade routes
Industrial actions.
Ongoing Equipment Shortage Issues
Shipping lines are advising that we will see the biggest impact of empty containers from this week until early May. This will be due to empty containers coming back to Asia are delayed and import returns are lower.
Port Congestion
As a result of labour shortages, industrial actions and high demand, port congestion around Australia is unfortunately ongoing. Vessel arrivals in Asia are currently delayed by approximately one week. Whilst, port congestion in the US is not expected to ease anytime soon. Therefore, we advise you to send through your orders as early as possible.
On a positive note, the Port Congestion Surcharge has been removed from Sydney ports.
Limited Capacity and higher rates
Increased blank sailings in combination with increased demand has resulted in many carriers struggling with limited capacity.
Air Freight Update
Noting that about 80% of air freight is usually carried through passenger aircraft bellies and with international travel remaining a no-go zone in Australia, it is no surprise that there is still very limited air freight capacity. However, with the Australia – New Zealand travel bubble which started on 19/4 air freight capacity for this route should increase. Air capacity of Indonesia and Philippines has been limited due to high export demand to the US and Europe. We expect this situation to continue into May. Due to the sharp drop in air freight capacity at the start of the pandemic, air freight rates remain at an all-time high, especially to and from China.
Australia – China Trade
As per the Australian Trade and Investment Commission, on March 26, China's Ministry of Commerce (MofCom) confirmed anti-dumping duties.
The anti-dumping duties are ranging from 116% to 218% on imports of Australian wine for a period of five years. They are due to commence on March 28 (BJ569333L). Punitive duties have already hit Australian winemakers hard. Wine exports sank to less than $1 million in January, from a peak of $164 million last October – before the tariffs were introduced.
Customs data shows that China's iron ore imports from Australia increased 59% (by value, year on year), to US$15 billion in the first two months of 2021. Volumes were down 1% to 105 million tonnes. Australian iron ore accounted for 57% of China's total iron ore imports by value, followed by Brazilian iron ore with 24% and South African with 4% market share respectively. Iron ore accounted for 73% of China's total imports from Australia in Jan-Feb 2021, which were up 9% y-o-y to US$21 billion. This masks a 42% drop in imports of Australian goods other than iron ore.
NSW Port Statistics – March 2021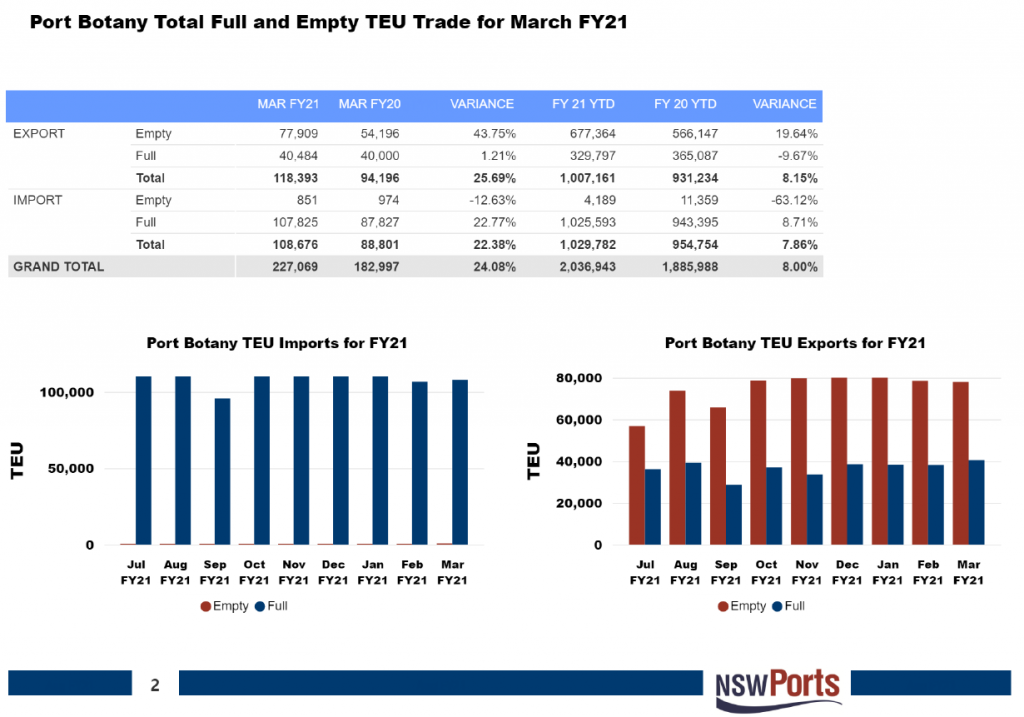 As part of our new consultancy services, BTi is now offering clients assistance with their Australian Trusted Trader accreditation process.
Should you wish to unlock new foreign markets and opportunities faster than bofore, book in your consultation today!
The 2023-2024 BMSB seasonal measures will apply to target high risk goods manufactured and shipped from target high risk countries

learn more

→

The 2021-22 BMSB seasonal measures will apply to target high risk goods manufactured and shipped from target high risk countries

learn more

→